Interested in playing Super Y in the summer of 2021 - NVSC will be holding tryouts for U12 (2009) through U15 (2006) Boys and Girls teams in Early January 2021. Specific dates, times and locations will be announced later in November 2020. Keep in top game shape over the summer by participating on a SuperY team. Home games are played at Hellwig Park in late June, July and early August. Teams can advance to the National Finals played in December 2021 in Tampa Florida.
More information will be provided, email supery@novasc.org for more information.
The NVSC 06 Girls coached by Marie Schweitzer and Nicole Schweitzer go undefeated in the Mid Atlantic Division in the Super Y League. The team will travel to Tampa, Florida to participate in the Super Y Finals in December.
NVSC U15 Girls coached by Brandon Webster and Carmen Suarez secure first place the Mid Atlantic Division. The team will participate in the Super Y Finals in December.
Villafan is a technically-skilled player with great vision and decision making abilities, taking space and playing passes well. She excels in 1v1 situations and is versatile enough to play multiple defensive positions. Both humble and passionate, she's a strong leader on the field.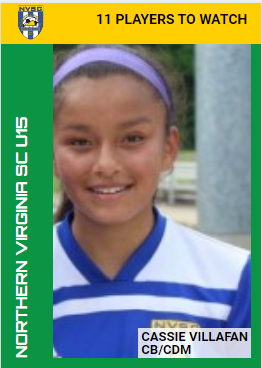 The 2019 Super Y League Finals kick off next Friday, and will feature some of the nation's top youth soccer talent. But even among a field full of great players, eleven in particular have caught the eye of the USL Scouting Network.